Medical time out in Mali Losinj

We have 3 nights in Mali Losinj and the plan was to spend Saturday and Sunday exploring the island on foot or with unladen bikes, in between basking and/or swimming on warm beaches under blue skies. Didn't quite work out like that.
First problem was with the weather. Although Losinj welcomed us with bright blue skies (photo above), it soon changed its mind towards us and laid on thunder, lightning and stormy winds for most of the night. To add insult to injury, the lightning was in the wrong direction to be visible from the flat, so I don't even have any dramatic photos to show for it. The windy, cloudy weather continued all through Saturday, still with intermittent heavy rain and thunder - not beach weather at all. And don't even THINK of renting a SUP!
Secondly, Caroline isn't over the lurgy yet, and it was clear by the end of our ferry ride from Zadar that I was joining her on the sick list. I won't bore you with a list of symptoms. Suffice to say that it did NOT make for a good night's sleep (irrespective of thunderstorms), nor to feel bright-eyed and bushy-tailed in the morning.
Look on the bright side. The flat has a coffee machine! And the hostess had tipped us off about the daily morning fish market at the harbourside. We doubted that many fishermen had been out in the overnight storm, but decided to go and take a look as we fancied a go at cooking a fresh local fish dish.


The fish market was in a remarkable old building with a triangular floor plan and a shiny wet stone floor.  Besides several types of white fish there was tuna, langoustines, shrimps, squid, octopus and cuttlefish. I was keen to try cuttlefish to emulate the restaurant meal we had in Zadar, but Caroline was irresistibly drawn to the neat stack of squids which were the sole ware of one particular elderly fisherman.


With the aid of a student who was over from Zagreb on a working holiday - and spoke excellent English - we were able to ask the correct amount for 2 people, and to ask the fisherman to clean the squid for us. This turned into an interactive tutorial, so Caroline now knows how to clean squid, too.  (I was too busy taking photos!)


Then I used the free municipal wifi to google for "Croatian squid recipe" to help us to decide what other ingredients to buy; and we had a detour into the wine merchant to choose a very rare and special white wine from the neighbouring island of Susak. Mr Google also provided detailed accounts of the fascinating viticultural history of that island.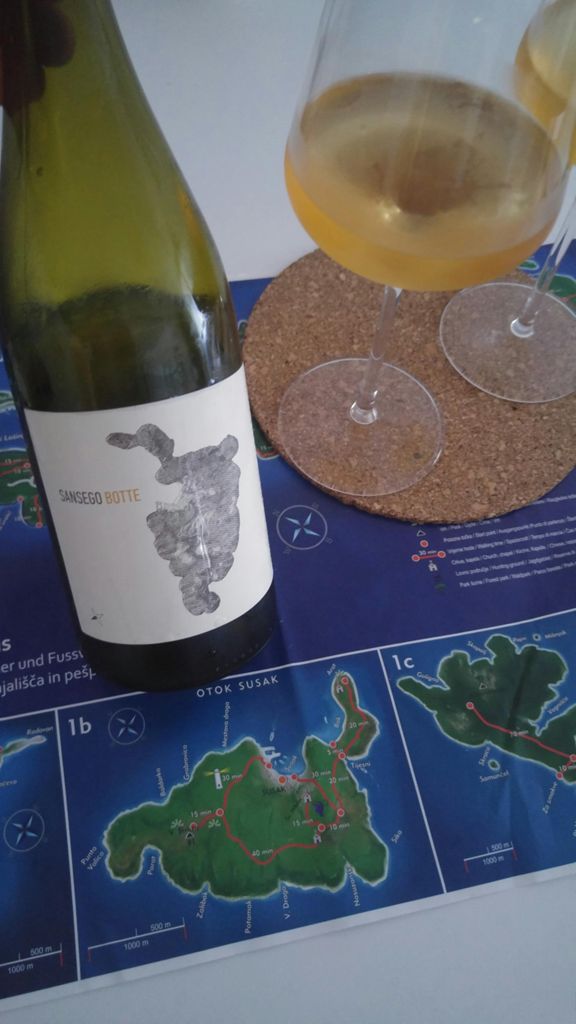 So clearly it's still possible to enjoy yourself whilst ill, but it really takes it out of you, so we staggered off back to the flat for more coffee followed by several hours' more bed rest. Oh, and we caught up on our laundry.


Later, we had to find a pharmacy to replenish our depleted stock of decongestant, and it would have been rude not to stop at the adjacent bar for a pre-dinner Aperol - especially as also adjacent was a moored boat which we recognised as the very same which we took our bikes on during our 1984 tour. She has been much modified in the meantime and is currently acting as a mothership for the Euro-African Spear Fishing Championships which are being held here! The owner/captain is still the same and we had a nice chat with him - he was tickled to see the old photo!


Caroline's squid dish was AMAZING - and we have enough squid left to try a different one tomorrow! Come Monday, we won't want to leave, even if we are better!

Strava title:
In search of meds and Aperol
Title:
Medical time out in Mali Losinj
Cover image:
https://dgtzuqphqg23d.cloudfront.net/JbJq0KIVdUlrWqmc22IEVyAxVZlbpWjqhkmXVRgPLho-1024x576.jpg
StreamLatLng:
[[44.536467,14.465521],[44.53644,14.465539],[44.536422,14.465579],[44.536399,14.465613],[44.536371,14.465616],[44.536349,14.465593],[44.536337,14.465556],[44.536303,14.465548],[44.536273,14.465578],[44.536251,14.465622],[44.53624,14.465658],[44.536223,14.465688],[44.536196,14.465712],[44.536171,14.465733],[44.536146,14.465756],[44.536122,14.465781],[44.5361,14.465811],[44.536086,14.465843],[44.536067,14.46588],[44.536047,14.465907],[44.536024,14.46593],[44.536013,14.465971],[44.535991,14.466],[44.535965,14.46601],[44.535934,14.466029],[44.535899,14.466052],[44.535865,14.466071],[44.535835,14.466086],[44.535804,14.466099],[44.535776,14.466118],[44.535751,14.466139],[44.535726,14.466159],[44.535698,14.466172],[44.53567,14.466185],[44.535655,14.466219],[44.535628,14.466234],[44.535594,14.466262],[44.535571,14.466286],[44.535547,14.46631],[44.53551,14.466331],[44.535484,14.466353],[44.535453,14.466384],[44.535421,14.4664],[44.535381,14.466424],[44.535352,14.466441],[44.535324,14.466454],[44.535286,14.466472],[44.53525,14.466458],[44.535228,14.466485],[44.535205,14.466515],[44.535178,14.466534],[44.535151,14.466559],[44.535123,14.466575],[44.535092,14.466587],[44.535064,14.466574],[44.535032,14.466611],[44.535029,14.466652],[44.535007,14.466684],[44.534978,14.466706],[44.534943,14.46674],[44.534911,14.466757],[44.534882,14.466783],[44.534878,14.466825],[44.534865,14.466867],[44.534841,14.466897],[44.534814,14.466913],[44.534788,14.466923],[44.534741,14.46695],[44.534714,14.46693],[44.534688,14.466962],[44.534664,14.466989],[44.534629,14.467016],[44.534599,14.467027],[44.534575,14.467062],[44.534548,14.467094],[44.534525,14.467129],[44.534501,14.467166],[44.534475,14.467201],[44.534451,14.467231],[44.534424,14.467244],[44.534392,14.467265],[44.534372,14.467315],[44.53437,14.467358],[44.534348,14.467393],[44.534328,14.467425],[44.534306,14.467451],[44.53428,14.46746],[44.534256,14.467483],[44.534234,14.46751],[44.534209,14.467531],[44.534183,14.467549],[44.534158,14.467574],[44.534137,14.4676],[44.534119,14.467631],[44.534091,14.46767],[44.534075,14.467703],[44.53405,14.467719],[44.534025,14.467743],[44.534003,14.467771],[44.53397,14.467802],[44.533944,14.467814],[44.533924,14.467839],[44.533903,14.467864],[44.533881,14.467889],[44.533857,14.46791],[44.533826,14.467923],[44.5338,14.467945],[44.533775,14.467962],[44.533737,14.467955],[44.533709,14.467978],[44.533683,14.468005],[44.533659,14.468023],[44.533627,14.468056],[44.533593,14.468065],[44.533558,14.468077],[44.533527,14.468108],[44.533491,14.468135],[44.533468,14.468159],[44.533442,14.46818],[44.533418,14.468205],[44.533393,14.46823],[44.533363,14.468242],[44.533338,14.468259],[44.533311,14.468277],[44.533273,14.468299],[44.533246,14.468317],[44.533216,14.468337],[44.53319,14.468345],[44.533159,14.468332],[44.53313,14.46836],[44.533098,14.468354],[44.533071,14.468367],[44.533039,14.468369],[44.533015,14.468388],[44.532996,14.468419],[44.532963,14.468443],[44.53293,14.468452],[44.53291,14.468484],[44.532888,14.46851],[44.532862,14.46853],[44.532835,14.468556],[44.532806,14.468578],[44.532775,14.468584],[44.532782,14.468546],[44.532785,14.468624],[44.532786,14.468665],[44.53278,14.468712],[44.532757,14.468682],[44.532743,14.468632],[44.532763,14.4686],[44.532788,14.468575],[44.532817,14.468556],[44.532841,14.468526],[44.532863,14.468496],[44.532879,14.468464],[44.532838,14.468411],[44.532811,14.468413],[44.532844,14.468427],[44.53288,14.468423],[44.532853,14.468415],[44.532824,14.46843],[44.53278,14.468471],[44.532746,14.468471],[44.532744,14.468514],[44.532757,14.468548],[44.532764,14.468597],[44.5328,14.468596],[44.532826,14.468611],[44.532794,14.468643],[44.532755,14.468655],[44.532718,14.468656],[44.532685,14.468667],[44.53265,14.468689],[44.532623,14.468698],[44.532602,14.468742],[44.532621,14.468711],[44.532656,14.468692],[44.532682,14.468678],[44.532663,14.468721],[44.532638,14.468755],[44.532625,14.468699],[44.532633,14.468657],[44.532664,14.468633],[44.5327,14.468627],[44.532736,14.468614],[44.532769,14.468603],[44.532797,14.468594],[44.532831,14.468584],[44.53286,14.468564],[44.532892,14.468548],[44.532925,14.468527],[44.532956,14.468515],[44.532986,14.468503],[44.533014,14.468487],[44.533046,14.468474],[44.533074,14.468454],[44.533102,14.468439],[44.533131,14.468425],[44.533163,14.468408],[44.533189,14.468375],[44.533223,14.468356],[44.533249,14.468344],[44.533282,14.468326],[44.533315,14.468304],[44.533347,14.468285],[44.533376,14.468266],[44.533405,14.468245],[44.533438,14.468225],[44.533469,14.4682],[44.533501,14.468171],[44.533532,14.468148],[44.533564,14.468126],[44.533595,14.468104],[44.533627,14.468077],[44.533661,14.468058],[44.533686,14.468037],[44.533718,14.468019],[44.533744,14.468055],[44.533779,14.468039],[44.533811,14.468023],[44.53383,14.46799],[44.533858,14.467962],[44.533885,14.467946],[44.533913,14.467948],[44.533933,14.467973],[44.533956,14.467942],[44.53398,14.46791],[44.534008,14.4679],[44.534037,14.467883],[44.534064,14.467859],[44.534091,14.467832],[44.534121,14.467807],[44.534143,14.467785],[44.53417,14.467768],[44.534199,14.467741],[44.534225,14.467714],[44.53426,14.467672],[44.534287,14.467647],[44.534314,14.467624],[44.534342,14.467596],[44.534372,14.467582],[44.534397,14.467551],[44.534417,14.467509],[44.534434,14.467478],[44.534452,14.46745],[44.534473,14.467401],[44.534481,14.467348],[44.534502,14.467313],[44.53452,14.467274],[44.534537,14.467238],[44.534558,14.46721],[44.534581,14.467183],[44.534603,14.467153],[44.534623,14.467126],[44.534655,14.467101],[44.534684,14.467088],[44.534709,14.467071],[44.534735,14.467051],[44.53476,14.467017],[44.534788,14.466985],[44.534809,14.466961],[44.534837,14.466927],[44.534859,14.466896],[44.534886,14.466867],[44.534908,14.466836],[44.534934,14.466805],[44.534957,14.466781],[44.534983,14.466755],[44.535009,14.46673],[44.535032,14.466705],[44.535059,14.466678],[44.535085,14.466655],[44.535111,14.466634],[44.535141,14.466617],[44.535169,14.466601],[44.535196,14.466582],[44.535228,14.466555],[44.53526,14.466533],[44.535291,14.466512],[44.535318,14.466488],[44.535344,14.46646],[44.535375,14.466447],[44.535407,14.466429],[44.535438,14.466409],[44.535469,14.466387],[44.535496,14.466368],[44.535524,14.46635],[44.535554,14.466327],[44.535587,14.466309],[44.535617,14.466289],[44.535644,14.466271],[44.535676,14.466256],[44.535703,14.466235],[44.535732,14.466215],[44.53576,14.466198],[44.535786,14.466177],[44.53581,14.466156],[44.535834,14.46614],[44.535861,14.466118],[44.535887,14.466095],[44.535912,14.466068],[44.535937,14.466046],[44.535965,14.466027],[44.535992,14.465996],[44.536022,14.465967],[44.536051,14.465942],[44.536081,14.465909],[44.536109,14.465875],[44.53614,14.465846],[44.536164,14.465817],[44.53619,14.465794],[44.536218,14.465772],[44.536246,14.465752],[44.536275,14.465728],[44.536307,14.465707],[44.536334,14.465684],[44.536361,14.465667],[44.536394,14.465648],[44.536423,14.465636],[44.536452,14.46562],[44.536475,14.465595],[44.5365,14.465567],[44.536531,14.465544],[44.536559,14.465517],[44.536583,14.465492],[44.5366,14.465458],[44.536625,14.465431],[44.536648,14.465405],[44.536671,14.465382],[44.536694,14.465356],[44.53672,14.465341],[44.53675,14.465337],[44.536771,14.465365],[44.536778,14.46541],[44.536807,14.465402],[44.536833,14.465384],[44.536861,14.465358],[44.536875,14.465313],[44.536905,14.465311],[44.536923,14.465342]]
StreamDistances:
[3.6,6.9,10.7,14.3,17.5,20.5,23.8,27.6,31.7,35.9,39,42.1,45.6,48.9,52.2,55.5,58.9,61.9,65.5,68.6,71.7,75.2,78.5,81.6,85.3,89.6,93.7,97.3,100.8,104.2,107.5,110.7,114,117.3,120.4,123.7,128,131.2,134.6,139,142.3,146.6,150.4,155.2,158.7,162,166.4,170.6,173.9,177.3,180.6,184.3,187.6,191.2,194.5,199.1,202.4,206,209.7,214.4,218.2,222,225.4,229,232.6,235.8,238.9,244.6,247.9,251.8,255.2,259.6,263.1,266.9,270.9,274.6,278.6,282.7,286.2,289.4,293.3,297.9,301.2,305,308.3,311.5,314.5,317.8,321,324.2,327.4,330.8,334,337.2,341.6,344.7,347.8,351.1,354.4,358.8,361.8,364.9,367.9,371.1,374.2,377.8,381.2,384.3,388.5,392.1,395.7,398.7,403.2,407,411,415.2,419.7,423,426.3,429.7,433.1,436.5,439.6,442.9,447.5,450.9,454.5,457.5,461.1,465,468.5,471.7,475.2,478.3,481.6,485.7,489.4,492.8,496,499.3,502.9,506.7,510.1,513.3,519.5,522.7,526.6,530,534.3,537.7,541.1,544.7,548.3,551.7,554.8,560.9,563.9,567.8,571.8,574.9,578.3,584.1,587.9,591.3,594.4,598.4,602.4,605.6,610,614.4,618.5,622.3,626.6,629.6,633.8,637.1,641.3,644.3,648.3,652.2,658.4,662,665.8,669.8,674,677.8,681,684.8,688.4,692.2,696.2,699.7,703.3,706.6,710.3,713.8,717.1,720.6,724.4,728.3,732.4,735.4,739.3,743.4,747.2,750.8,754.5,758.4,762.4,766.6,770.6,774.5,778.4,782.5,786.6,789.8,793.7,797.8,801.9,805.6,808.9,812.8,816,819.1,822.1,825.7,829.4,832.6,836.1,839.7,843.3,847.2,850.3,853.5,857.4,861,866.1,869.7,873.2,877,880.6,884.2,888.3,891.4,894.4,898.9,903.1,906.7,910.4,913.9,917.1,920.5,923.8,926.9,931,934.4,937.5,940.8,944.7,948.7,951.7,955.8,959.3,963,966.5,970.3,973.5,977,980.5,983.8,987.4,990.9,994.2,997.8,1001.2,1004.6,1008.6,1012.6,1016.5,1020,1023.7,1027.3,1031.1,1034.9,1038.7,1042.1,1045.6,1049.4,1053.3,1057,1060.3,1064,1067.5,1071.1,1074.5,1077.8,1081,1084,1087.4,1090.8,1094.4,1097.6,1101.1,1104.9,1109,1112.8,1117,1121.1,1125.2,1128.7,1132.2,1135.8,1139.3,1143,1147,1150.5,1153.7,1157.7,1161,1164.5,1167.8,1171.3,1175.3,1179,1182.3,1185.6,1189.1,1192.3,1195.5,1198.8,1201.9,1205.3,1208.5,1212.2,1215.5,1218.7,1222.4,1226.3,1229.6,1232.8]
StreamAltitudes:
[0,-0.1,-0.3,-0.5,-0.7,-0.8,-1,-1.2,-1.4,-1.6,-1.7,-1.8,-2,-2.1,-2.3,-2.4,-2.5,-2.7,-2.8,-2.9,-3.1,-3.2,-3.4,-3.5,-3.7,-3.9,-4.1,-4.2,-4.4,-4.6,-4.8,-5,-5,-5,-5,-5,-5,-5,-5,-5,-5,-4.9,-4.6,-4.3,-4.1,-3.9,-3.6,-3.3,-3.1,-2.9,-2.6,-2.4,-2.1,-1.8,-1.6,-1.2,-0.9,-0.5,-0.2,0.2,0.5,0.7,0.8,0.8,0.9,1.1,1.2,1.1,0.9,0.7,0.4,0.1,0,0,0,0.1,0.3,0.4,0.5,0.7,0.8,1,1.1,1.3,1.5,1.7,1.9,2,2.2,2.4,2.5,2.7,2.9,3,3,3,3,3,3,3,3,3,3,3,3,3,3,3,2.8,2.7,2.5,2.4,2.2,2.1,1.9,1.8,1.5,1.4,1.2,1.1,0.9,0.7,0.5,0.3,0,0.2,0.3,0.5,0.6,0.8,0.9,1.1,1.3,1.4,1.5,1.7,1.9,2,2.1,2.1,2.2,2.5,2.6,2.7,2.9,3.1,3.2,3.4,3.4,3.2,3,2.9,2.7,2.6,2.4,2.6,2.6,2.7,2.8,2.9,2.9,3.1,3.2,3.3,3.3,3.4,3.5,3.6,3.7,3.8,3.9,4,4.1,4.2,4.3,4.2,4,3.8,3.7,3.5,3.3,3.2,3,2.9,2.7,2.6,2.5,2.2,2.1,2,1.9,1.8,1.6,1.5,1.3,1.1,1,0.8,0.7,0.5,0.3,0.2,0,0.2,0.5,0.7,0.9,1.1,1.3,1.5,1.7,1.8,2,2.1,2.3,2.4,2.6,2.7,2.9,3,3,3,3,3,3,3,3,3,3,3,3.5,3.5,3.5,3.5,3.6,3.6,3.5,3.3,3.1,2.8,2.6,2.3,2,1.8,1.6,1.2,1,0.8,0.6,0.5,0.3,0.2,0.1,0,0,0.3,0.5,0.7,1,1.2,1.2,1,0.9,0.8,0.7,0.5,0.2,-0.1,-0.4,-0.7,-1.1,-1.4,-1.7,-2,-2.3,-2.6,-2.9,-3.2,-3.4,-3.7,-4,-4.2,-4.5,-4.7,-5,-5,-5,-5,-5,-5,-5,-5,-5,-5,-4.9,-4.7,-4.5,-4.3,-4.1,-3.9,-3.7,-3.6,-3.4,-3.2,-3,-2.9,-2.7,-2.5,-2.3,-2.1,-2,-1.8,-1.6,-1.5,-1.3,-1.1,-0.9,-0.7,-0.5,-0.3,-0.1,0.1,0.3,0.5,0.7,0.9,1,1,1,1,1,1.1,1.1,1.1,1.1,1.1,1.1,1.1,1.1,1.1]
StreamVelocity:
[0,1.1,1.2,0.9,1,1.2,1.1,1,1.1,1.4,1.5,1.5,1.6,1.6,1.7,1.6,1.7,1.6,1.3,1.3,1.4,1.6,1.7,1.3,1.4,1.6,2,2,1.9,1.8,1.7,1.7,1.6,1.6,1.6,1.6,1.5,1.5,1.6,1.3,1.3,1.5,1.3,1.4,1.7,1.7,1.5,1.4,1.5,1.6,1.7,1.7,1.7,1.8,1.4,1.3,1.6,1.6,1.8,1.4,1.4,1.5,1.8,1.8,1.8,1.7,1.7,1.5,1.1,1.2,1.3,1.6,1.3,1.5,1.6,1.9,2,2,1.9,1.8,1.4,1.4,1.6,1.7,1.7,1.7,1.6,1.6,1.6,1.6,1.6,1.6,1.6,0.8,0.8,1.1,1,1.2,1.6,1.5,1.5,1.5,1.5,1.6,1.6,1.7,1.7,1.7,1.2,1.3,1.4,1.7,1.5,1.4,1.3,1.4,1.4,1.6,1.6,1.7,1.7,1.7,1.7,1.6,1.6,1.6,1.7,1.7,1.3,1.3,1.2,1,1,1.3,1.4,1.5,1.3,1.4,1.5,1.7,1.7,1.8,1.8,0.6,0,0,0.1,0.3,0.3,1.1,1.1,1.2,1.2,1.2,1.1,0.1,0.1,0.2,0.3,0.3,0.2,0.6,0.5,0.4,0.3,0.5,0.5,0.6,0.2,0.3,1.4,1.3,1.4,1.5,1.4,1.3,1.3,0.6,0.2,0.3,0,0,1.2,1.3,1.4,1.3,1.2,1,1.1,1.2,1.3,1.3,1.2,1.1,1.2,1.2,1.1,1.1,1.2,1.3,1.3,1.4,1.4,1.3,1.3,1.2,1.2,1.3,1.3,1.4,1.4,1.3,1.3,1.3,1.4,1,1,1,1,1.3,1.2,1,1,0.3,0.2,0.5,1.2,1,0.8,0.9,0.9,0.9,1,1,1.2,1.3,1.2,1.2,1.2,1.2,1.2,1.2,1.3,1.4,1.5,1.3,1.2,1.3,1,0.7,0.7,1.1,1.1,1.1,1,1.1,0.9,0.8,0.9,1.1,1.4,1.4,1.3,1.2,1.2,1.2,1.2,1.1,1.2,1.1,1.1,1.2,1.1,1.1,1.2,1.1,1.2,1.3,1.3,1.2,1.2,1.2,1.2,1.3,1.3,1.2,1.1,1.2,1.3,1.3,1.2,1.2,1.2,1.2,1.2,1.1,1.1,1,1.1,1.1,1.2,1.1,1.1,1.2,1.1,1.1,1.3,1.4,1.2,1.1,1.2,1.2,1.2,1.2,1.3,1.3,1.1,1.2,1.2,1.1,1.1,1.1,1.3,1.3,1.2,1.1,1.1,1.1,1.1,1.1,1.1,0.3,0.3,1,1,1.1,1,0.9,0.1,0.1]