Old Memories and New Friends

I've mentioned a few times in these stories that Caroline and I previously came cycling on the Croatian islands in 1984. We were very young (21 and 20), and our sense of adventure had taken us over the border into an unfamiliar country (at that time communist Yugoslavia) with a language we couldn't understand, relying for navigation on a small-scale and rather out-of-date paper map! It was actually Caroline's first time ever travelling outside the UK!
We had taken an early morning ferry from Rijeka to Porozina, near the northern tip of Cres island, and then chose to make for the village of Beli, for no better reason than that it looked interesting on the map (what better reason could there be?!). Thus we arrived sometime in the early afternoon, looking for sustenance and a bed for the night. What we found was a practically depopulated village in a stunning location but a dreadful state of disrepair, with no mains electricity or water, a very sad dilapidated little shop with about half a dozen items on the shelves (including, thankfully, mineral water), and no tourist infrastructure whatever apart from an insanitary-smelling campsite next to the little fishing harbour down a precipitous track below the village.
And nobody who spoke our language.
To our rescue came a fisherman who allowed us to sleep in the net loft above his hut by the beach, and cooked us dinner from his own catch. 
Fast forward to 2017, the Internet Age when you can find out anything and everything about any place on Earth, at the touch of a search engine. Beli now has water and electricity (including street lights which stay on all night, rather a shame really), and tourist infrastructure including at least three online-bookable properties, one of which we stayed in. Once we had checked in, and had a short rest to recover from our 80km ride, we headed down to the beach to see whether our fisherman's hut was still there.
The camp site was definitely still there, but no longer stank like it did back then. There was a rather tawdry beach bar and grill, which wasn't there in 1984, and the harbour was the same but full of pleasure craft, not fishing boats. Rental kayaks and SUPs - unheard-of back then - were drawn up on the pebble beach (we were tempted!).


The fishermen's huts were still there, but without fishermen - adapted into mini holiday homes. We identified "ours" by the distinctive shape of the upstairs window. You can see our towels and sleeping bags airing on the balcony in the 1984 version of the photo.


We showed the photo to the proprietor of the beach cafe and asked if he knew anything about the fisherman in the photo. "Yes, I know everything about this guy" came the slightly startling reply. "He was a local legend. His niece is here, do you want to meet her?"
The upshot was that we spent a very convivial hour and a half with the niece Mirjana, her husband Boris and a couple of other friends, who plied us with wine and rakia, showed us around the former fishing hut now done up as a small-but-perfectly-formed holiday home; told us tales of great-uncle Jure who was evidently renowned as a man of great generosity and integrity (which is presumably why the people sent us to him!), and had sadly died in 2002 but was fondly remembered by all.  Finally, Boris got on the phone to his mate Aron who runs the Osteria up in the village, and told him to look after us when we went there to eat. But first, I had to wobble my way up that 18% gradient with several rakias inside me ... and the dish of local lamb was amazing!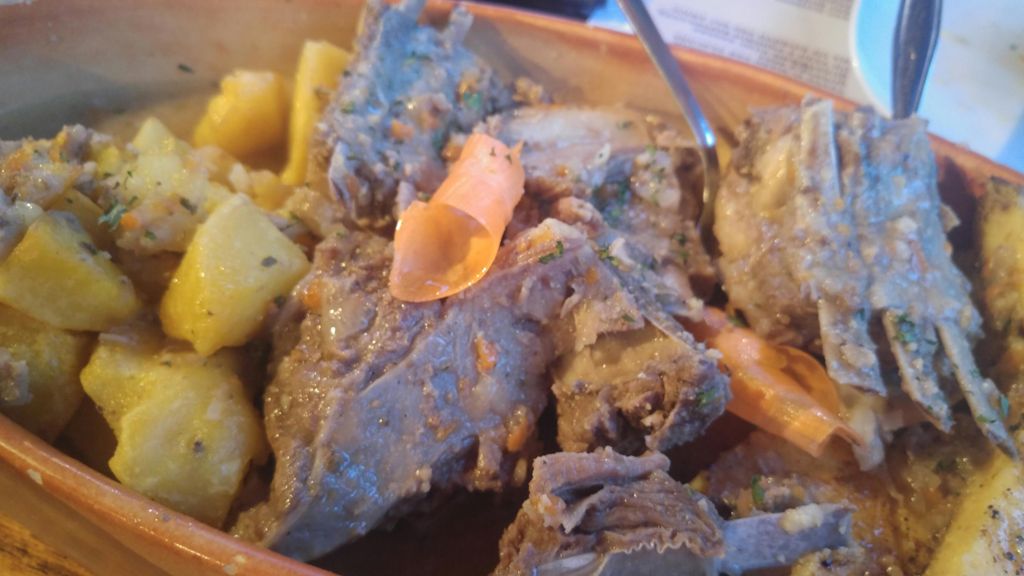 Strava title:
To the beach to pose for photos... 18% gradient
Title:
Old Memories and New Friends
Summary Polyline:
ssirGgurvAyGThDwKvMgGbCdHzBoAsBdAqCgHgM`GmD~H~@tD
Cover image:
https://dgtzuqphqg23d.cloudfront.net/U5cfNYWzrjeVJgHRjc0M1YR7c-VpdVzgdnJ75KjBTtY-818x1024.jpg
StreamLatLng:
[[45.110506,14.354927],[45.110565,14.355105],[45.110534,14.355148],[45.110564,14.355079],[45.110609,14.35503],[45.110699,14.354971],[45.110588,14.355001],[45.110583,14.354888],[45.110619,14.354897],[45.11065,14.354892],[45.110684,14.3549],[45.110711,14.354892],[45.110738,14.354878],[45.110766,14.354856],[45.110793,14.354844],[45.110823,14.354828],[45.110855,14.354805],[45.110884,14.354799],[45.110919,14.354805],[45.110946,14.354792],[45.110974,14.3548],[45.111005,14.354827],[45.11104,14.354842],[45.111074,14.354821],[45.111094,14.354777],[45.111096,14.354727],[45.111101,14.354684],[45.111126,14.354662],[45.111155,14.354681],[45.111176,14.354711],[45.111209,14.354727],[45.111246,14.354723],[45.111278,14.354712],[45.111305,14.354695],[45.111331,14.354681],[45.111369,14.354663],[45.111412,14.354636],[45.11146,14.354596],[45.111484,14.354571],[45.11151,14.35455],[45.111538,14.354533],[45.111566,14.35452],[45.111596,14.354509],[45.111625,14.354498],[45.111687,14.354493],[45.111712,14.354516],[45.111728,14.354554],[45.11175,14.354589],[45.111784,14.354644],[45.111812,14.354645],[45.111842,14.354685],[45.111876,14.354744],[45.111898,14.354779],[45.111913,14.354816],[45.111917,14.354857],[45.111918,14.3549],[45.111919,14.354944],[45.111918,14.354987],[45.111915,14.355031],[45.111912,14.355075],[45.111909,14.35512],[45.111906,14.355163],[45.111902,14.355203],[45.111897,14.355244],[45.111892,14.35529],[45.111885,14.355338],[45.111877,14.35539],[45.111866,14.355444],[45.11185,14.355498],[45.11181,14.355556],[45.111787,14.355618],[45.111764,14.355675],[45.111742,14.35574],[45.111715,14.35581],[45.111692,14.35588],[45.111667,14.355943],[45.111642,14.356001],[45.111619,14.356065],[45.111597,14.356131],[45.111573,14.356194],[45.111545,14.356237],[45.111511,14.356274],[45.111482,14.356319],[45.111455,14.356369],[45.111429,14.356417],[45.111396,14.356457],[45.111369,14.356508],[45.111342,14.356556],[45.111317,14.356616],[45.11128,14.356657],[45.111239,14.3567],[45.111204,14.356739],[45.111155,14.356777],[45.111108,14.356818],[45.111062,14.356859],[45.111014,14.356888],[45.11097,14.356912],[45.110917,14.356936],[45.110866,14.356955],[45.110822,14.356986],[45.110785,14.357012],[45.110746,14.357027],[45.110706,14.357043],[45.110663,14.357056],[45.110613,14.357066],[45.110567,14.357097],[45.110515,14.357115],[45.110467,14.357132],[45.110417,14.357152],[45.110373,14.35716],[45.110323,14.35718],[45.110274,14.357202],[45.110232,14.357223],[45.11019,14.357242],[45.110141,14.357259],[45.110092,14.357244],[45.11001,14.357295],[45.109912,14.357361],[45.109833,14.357414],[45.109792,14.357448],[45.109749,14.357485],[45.109696,14.357522],[45.109656,14.357551],[45.109613,14.357569],[45.109553,14.357606],[45.109502,14.357644],[45.109459,14.35767],[45.10942,14.357705],[45.10938,14.357746],[45.109343,14.357788],[45.109304,14.35783],[45.109275,14.357847],[45.109239,14.357877],[45.1092,14.357906],[45.109169,14.357933],[45.109129,14.357974],[45.109105,14.357992],[45.109065,14.358002],[45.109023,14.358014],[45.108959,14.35804],[45.108847,14.358101],[45.108808,14.358128],[45.108772,14.358155],[45.108738,14.358167],[45.108705,14.358173],[45.108675,14.358171],[45.108626,14.358162],[45.1086,14.358149],[45.10857,14.358128],[45.108545,14.358106],[45.10852,14.358086],[45.108491,14.358055],[45.108463,14.358021],[45.108439,14.357984],[45.108417,14.357948],[45.108403,14.357905],[45.108388,14.35787],[45.108372,14.357828],[45.108348,14.357801],[45.10834,14.357762],[45.10833,14.357724],[45.108321,14.357681],[45.10831,14.357635],[45.108298,14.357585],[45.108284,14.357533],[45.108267,14.35748],[45.108251,14.357426],[45.108233,14.35737],[45.108217,14.357313],[45.108202,14.357256],[45.108187,14.357199],[45.108172,14.357133],[45.108172,14.35709],[45.108166,14.357036],[45.108152,14.356991],[45.108141,14.356923],[45.108122,14.35686],[45.108105,14.356809],[45.108088,14.356769],[45.108069,14.356736],[45.108044,14.356707],[45.108003,14.356689],[45.107974,14.356692],[45.107947,14.356701],[45.107909,14.356713],[45.107871,14.356721],[45.107838,14.356723],[45.107809,14.356723],[45.107763,14.356713],[45.10773,14.356697],[45.107693,14.356682],[45.107659,14.35669],[45.107631,14.356664],[45.107644,14.356711],[45.107649,14.356751],[45.107682,14.356772],[45.107709,14.356778],[45.10776,14.356791],[45.107786,14.356802],[45.107813,14.356814],[45.107856,14.356836],[45.107891,14.356858],[45.107906,14.3569],[45.107896,14.35695],[45.107881,14.356994],[45.107856,14.35703],[45.107818,14.357049],[45.107768,14.357069],[45.107737,14.357095],[45.107718,14.357127],[45.107713,14.35717],[45.107729,14.357202],[45.107694,14.357187],[45.107669,14.35716],[45.10764,14.357151],[45.107614,14.357141],[45.10758,14.357135],[45.107547,14.35712],[45.107514,14.357114],[45.107486,14.357116],[45.107453,14.357106],[45.107422,14.357109],[45.10772,14.357174],[45.107755,14.357138],[45.107795,14.357096],[45.107818,14.357064],[45.107832,14.357022],[45.107839,14.356943],[45.107844,14.356899],[45.107856,14.356858],[45.107875,14.356823],[45.107898,14.356798],[45.107938,14.356773],[45.107972,14.356758],[45.108005,14.356759],[45.108032,14.356799],[45.108048,14.356865],[45.108057,14.356926],[45.108077,14.356968],[45.10809,14.357005],[45.108109,14.357073],[45.108123,14.357108],[45.108144,14.357173],[45.108152,14.357211],[45.10816,14.357251],[45.108181,14.357319],[45.108207,14.357382],[45.108228,14.357444],[45.108243,14.3575],[45.108261,14.357551],[45.108277,14.357594],[45.108295,14.357643],[45.108311,14.357692],[45.108331,14.357726],[45.108351,14.357754],[45.108372,14.357799],[45.108384,14.357852],[45.108398,14.357896],[45.108417,14.357944],[45.108439,14.357989],[45.108459,14.358024],[45.108491,14.358062],[45.108523,14.358089],[45.108551,14.358109],[45.108575,14.358134],[45.1086,14.358162],[45.108628,14.358178],[45.108653,14.3582],[45.108679,14.358216],[45.108706,14.358228],[45.108736,14.358238],[45.108775,14.358224],[45.108803,14.358197],[45.108838,14.358165],[45.108866,14.358151],[45.108894,14.35814],[45.108928,14.358112],[45.108966,14.358098],[45.109004,14.358094],[45.109036,14.358081],[45.109061,14.358064],[45.109093,14.358035],[45.109123,14.358003],[45.109157,14.357975],[45.109187,14.357941],[45.109216,14.357907],[45.109246,14.357876],[45.109277,14.35785],[45.109308,14.357825],[45.109341,14.357803],[45.109374,14.357779],[45.109404,14.357754],[45.109432,14.357731],[45.109463,14.357713],[45.109496,14.357698],[45.109526,14.357675],[45.109557,14.357649],[45.10959,14.357623],[45.109622,14.357598],[45.109655,14.357575],[45.10969,14.357556],[45.109726,14.35754],[45.109756,14.357527],[45.109785,14.357509],[45.109815,14.357495],[45.109843,14.357477],[45.109872,14.357461],[45.109905,14.357446],[45.109942,14.357426],[45.109977,14.3574],[45.11001,14.35738],[45.110043,14.357361],[45.110079,14.357345],[45.110115,14.35733],[45.11015,14.357313],[45.110184,14.357298],[45.110218,14.357284],[45.110252,14.357275],[45.110281,14.357262],[45.110312,14.357246],[45.110344,14.357229],[45.110372,14.357215],[45.110402,14.357204],[45.110429,14.357192],[45.11046,14.357185],[45.110488,14.357178],[45.110515,14.357169],[45.110551,14.357156],[45.110584,14.357143],[45.110612,14.357134],[45.110639,14.357125],[45.110672,14.357112],[45.110709,14.357099],[45.110747,14.357087],[45.110774,14.357078],[45.1108,14.357068],[45.110827,14.357057],[45.110853,14.357043],[45.110888,14.357019],[45.110915,14.357004],[45.11094,14.356987],[45.110977,14.356961],[45.111013,14.356944],[45.111036,14.356924],[45.111061,14.356903],[45.111093,14.356871],[45.111124,14.356843],[45.111162,14.356816],[45.111193,14.356784],[45.111218,14.356757],[45.111242,14.356735],[45.111264,14.35671],[45.111289,14.356684],[45.111311,14.356656],[45.111332,14.356625],[45.111354,14.356598],[45.111372,14.356562],[45.111395,14.356514],[45.111413,14.356482],[45.111433,14.356452],[45.111454,14.356419],[45.111471,14.356387],[45.111487,14.356353],[45.111505,14.356323],[45.111523,14.356285],[45.111537,14.356245],[45.11156,14.356205],[45.111579,14.35617],[45.1116,14.356121],[45.111616,14.356077],[45.11163,14.356038],[45.111643,14.355992],[45.111658,14.355957],[45.111677,14.355907],[45.111697,14.355859],[45.111716,14.35581],[45.111736,14.355761],[45.111756,14.355712],[45.111772,14.355678],[45.111788,14.355643],[45.111806,14.355609],[45.111827,14.355559],[45.111844,14.355509],[45.111858,14.355468],[45.111868,14.355424],[45.111876,14.355385],[45.111888,14.355345],[45.111894,14.3553],[45.111893,14.355259],[45.111895,14.355221],[45.111903,14.355165],[45.111899,14.355113],[45.111903,14.355059],[45.111911,14.355011],[45.111915,14.354968],[45.111916,14.354919],[45.111912,14.354865],[45.111906,14.354813],[45.111896,14.354764],[45.111872,14.35472],[45.111848,14.354703],[45.111825,14.354675],[45.111803,14.354651],[45.111782,14.354616],[45.111767,14.354581],[45.111749,14.354541],[45.111733,14.3545],[45.111715,14.354469],[45.111683,14.35445],[45.111647,14.354445],[45.111616,14.354458],[45.111577,14.354474],[45.111548,14.354497],[45.111579,14.354482],[45.111569,14.354437]]
StreamDistances:
[0,15.5,20.3,26.7,32.9,44,56.7,65.6,69.7,73.1,77,80.1,83.2,86.8,90,93.5,97.5,100.8,104.7,107.9,111.1,115.1,119.2,123.3,127.3,131.2,134.7,138,141.5,144.8,148.7,152.8,156.4,159.8,162.8,167.2,172.5,178.6,182,185.4,188.7,192,195.4,198.8,205.7,209,212.5,216.1,221.9,225,229.6,235.6,239.2,242.6,245.8,249.2,252.6,256,259.5,263,266.5,269.9,273.1,276.3,280,283.9,288,292.4,297,303.4,308.9,314.1,319.7,326,332,337.7,343,348.7,354.4,360.1,364.6,369.4,374.2,379.2,383.9,388.6,393.7,398.5,404,409.2,414.8,419.8,426,432.2,438.3,444,449.3,455.4,461.4,466.7,471.4,475.8,480.5,485.3,491,496.7,502.6,508,513.9,518.8,524.6,530.3,535.3,540.1,545.7,551.3,561.3,573.3,583,588.4,593.9,600.5,605.5,610.5,617.8,624.2,629.3,634.5,640,645.3,650.7,654.2,658.9,663.8,667.8,673.3,676.3,680.8,685.6,693,706.3,711.2,715.7,719.6,723.3,726.6,732.1,735.2,738.9,742.2,745.4,749.4,753.5,757.4,761.2,764.9,768.1,771.9,775.2,778.4,781.6,785.1,789,793.1,797.4,802,806.7,811.4,816.3,821,825.8,831.2,834.6,838.9,842.8,848.2,853.6,858.1,861.7,865.1,868.7,873.4,876.7,879.7,884.1,888.3,892.1,895.3,900.4,904.3,908.6,912.4,915.6,919.6,922.7,926.7,929.8,935.5,938.6,941.7,946.7,951.1,954.7,958.8,962.6,966.6,971.2,976.9,980.9,984.2,987.6,990.7,994.8,998.3,1001.6,1004.6,1008.4,1012.3,1016,1019.1,1022.8,1026.3,1056.8,1061.6,1067.2,1070.8,1074.4,1080.7,1084.2,1087.7,1091.2,1094.4,1099.2,1103.1,1106.9,1111.2,1116.7,1121.6,1125.5,1128.8,1134.5,1137.6,1143.3,1146.4,1149.6,1155.5,1161.2,1166.6,1171.3,1175.8,1179.6,1183.9,1188.1,1191.6,1194.8,1199,1203.4,1207.1,1211.5,1215.8,1219.4,1224,1228.1,1231.6,1234.9,1238.5,1241.8,1245.1,1248.3,1251.4,1254.8,1259.2,1263.1,1267.7,1270.9,1274.2,1278.6,1282.9,1287.2,1290.9,1293.9,1298.2,1302.3,1306.7,1311,1315.2,1319.3,1323.3,1327.3,1331.3,1335.4,1339.3,1343,1346.7,1350.5,1354.3,1358.3,1362.5,1366.6,1370.6,1374.9,1379,1382.5,1386,1389.6,1392.9,1396.4,1400.3,1404.6,1409,1413.1,1417.1,1421.2,1425.4,1429.5,1433.5,1437.4,1441.2,1444.6,1448.3,1452.1,1455.4,1458.9,1462,1465.5,1468.6,1471.8,1475.9,1479.7,1482.9,1485.9,1489.8,1494,1498.4,1501.4,1504.4,1507.5,1510.6,1514.9,1518.1,1521.3,1525.9,1530,1533.1,1536.3,1540.7,1544.7,1549.5,1553.7,1557.2,1560.4,1563.6,1567,1570.3,1573.7,1576.9,1580.3,1584.9,1588.1,1591.3,1594.8,1598,1601.2,1604.3,1607.9,1611.4,1615.5,1618.9,1623.3,1627.2,1630.7,1634.5,1637.8,1642.2,1646.7,1651.1,1655.5,1659.9,1663,1666.3,1669.7,1674.3,1678.7,1682.2,1685.8,1689.1,1692.4,1696,1699.2,1702.2,1706.7,1710.8,1715,1718.9,1722.3,1726.2,1730.4,1734.5,1738.6,1742.9,1745.9,1749.3,1752.4,1756,1759.1,1762.9,1766.6,1769.7,1773.5,1777.6,1781.2,1785.7,1789.4,1793,1796.7]
StreamAltitudes:
[107.1,109,105.9,103.6,101.4,97.5,93,89.9,88.4,87.2,85.8,84.7,83.6,82.3,85.2,88.5,92.2,95.2,97,97,97,97,97,97,97,97,97,97,97,97,97.4,97.5,97.5,97.4,97.4,97.3,97.3,97.2,97,97,97,97,97,97,97,97,95.6,95,94,93.5,92.6,91.3,90.4,89.7,88.9,88.2,87.4,86.7,85.9,85.1,84.2,83.4,82.6,81.8,80.9,79.9,78.9,77.9,76.8,75.4,74.1,72.9,71.6,70.1,68.7,67.5,66.4,65.4,64.5,63.6,63,62.3,61.6,60.9,60.2,59.5,58.7,57.8,56.8,55.9,54.9,54,52.9,51.9,50.9,50.1,49.3,48.5,47.7,46.9,46.2,45.5,44.7,43.8,42.8,41.8,40.8,39.8,38.9,38.1,37.1,36.1,35.3,34.5,33.7,32.9,31.5,29.7,28.2,27.4,26.6,25.6,24.8,24.1,22.9,21.8,20.9,19.8,18.7,17.6,16.5,15.8,14.9,14,13.2,12.2,12,11.9,11.8,11.5,10.8,10.5,10.2,10,9.8,9.7,9.4,9.2,9,8.8,8.6,8.3,8,7.7,7.3,7,6.7,6.4,6.1,5.8,5.5,5.3,5,4.8,4.5,4.3,4.1,3.9,3.7,3.6,3.4,3.2,3,2.9,2.7,2.4,2.2,2,1.9,1.8,1.7,1.7,1.6,1.7,1.7,1.8,2,2.1,2.4,2.6,2.7,2.8,2.9,3,3,2.7,2.6,2.7,2.6,2.6,3.8,4.2,3.9,3.6,3.4,2.5,2,1.5,1.4,1.5,1.5,1.3,1.5,1.4,1.5,1.7,1.9,2.1,2.8,2.7,3.3,3.5,0.7,0.5,0.5,0.7,0.7,0.7,0.9,1.5,1.7,1.7,1.6,1.7,1.7,1.8,2,2.1,2.3,2.5,2.7,2.9,3.1,3.2,3.3,3.5,3.8,4,4.2,4.3,4.5,4.8,5,5.3,5.5,5.8,6.2,6.5,6.9,7.3,7.7,8,8.4,8.6,8.8,9,9.2,9.4,9.5,9.7,9.9,10.1,10.3,10.6,10.8,11,11.2,11.5,11.6,11.8,11.8,11.9,12,12.6,13.4,14.2,15,15.7,16.6,17.4,18.3,19.1,19.8,20.5,21.3,22,22.7,23.4,24,24.6,25.3,25.9,26.4,27,27.5,28,28.6,29.1,29.8,30.5,31,31.6,32.2,32.8,33.4,34,34.6,35.2,35.7,36.4,37,37.6,38.2,38.7,39.3,39.8,40.3,41,41.7,42.2,42.8,43.5,44.3,45,45.5,46,46.5,47,47.6,48,48.5,49.1,49.7,50.1,50.6,51.3,51.9,52.7,53.5,54.1,54.6,55.2,55.8,56.4,57,57.6,58.2,59,59.5,60,60.6,61,61.5,61.9,62.4,62.9,63.5,64,64.7,65.4,66,66.7,67.3,68.3,69.2,70.3,71.3,72.4,73.1,73.9,74.7,75.7,76.7,77.5,78.4,79.1,80,80.9,81.7,82.5,83.6,84.6,85.6,86.5,87.2,88.1,89,90,90.9,91.9,92.5,93.2,93.8,94.4,94.9,95.5,97,97,97,97,97,97,97,97,97]
StreamVelocity:
[0,5.2,5.1,5.3,4.7,5.7,7.3,6.5,1.9,0.8,1,1.2,1,1.1,1.1,1.1,1.3,1.2,0.6,0.6,0.8,1.4,1,1.2,1.4,1.6,1.5,1.5,1.4,1.4,1.5,1.9,1.9,1.9,1.7,1.5,1.9,2.3,3,3,3.2,3.3,3.4,3.4,3.4,3.4,3.4,3.5,3.2,0.8,0.2,0.4,0.5,0.6,0.6,3.3,3.4,3.4,3.4,3.4,3.5,3.5,3.4,3.4,3.4,3.5,3.6,3.9,4.1,4.7,5,5.2,5.5,5.8,5.7,5.8,5.8,5.8,5.7,5.6,5.4,5.3,5.1,5,4.8,4.8,4.9,4.9,5,5.1,5.2,5.2,5.5,5.6,5.8,5.8,5.9,5.9,5.8,5.7,5.5,5.3,5,4.8,4.9,5.1,5.4,5.5,5.7,5.6,5.6,5.5,5.5,5.2,5.4,5.3,5.2,5.5,5.3,5.4,5.4,5.4,5.4,5.5,5.9,6.1,5.8,5.8,5.9,5.5,5.3,5,4.9,4.8,4.5,4.5,4.4,2.6,2.5,3.3,4.3,6.1,6,5.3,5,4.1,3.3,3.1,3.1,3.1,3.1,3.5,3.7,3.7,3.8,3.9,3.7,2.9,0.9,0.1,0.1,0.2,0.3,0.4,0.4,4.1,4.3,4.5,4.6,4.7,4.8,4.9,4.6,4.5,4.4,4.5,4.5,4.7,3.8,2.3,1.8,1.9,2.3,2.4,2.6,3,3.1,3.1,3.3,2.4,1.4,0.9,0.3,0.3,1,1.2,2,2.6,2.6,3,2.8,2.5,2.2,2,1.9,2,2.1,2.4,2.4,2.2,0.7,0.4,0.2,0.3,0.4,1.6,1.4,1.3,1.3,1.1,1.1,1,0,0,0.4,0.5,2.1,2.3,2.7,2.8,3.4,3.3,3,2.4,2.1,2,2.3,2.4,1.8,1.4,1.8,1.8,1.8,2,2.2,3,3,2.8,2.6,2.4,2.2,2.1,2,2,1.8,1.5,1.7,1.8,2.1,2.1,2.1,2.1,2,2,1.8,1.7,1.1,1.1,1.2,1.6,1.6,1.6,1.7,1.7,1.6,1.6,1.5,1.5,1.4,1.3,1.3,1.5,1.4,1.4,1.5,1.4,1.4,1.3,1.3,1.3,1.4,1.3,1.3,1.2,1.3,1.3,1.3,1.4,1.4,1.3,1.4,1.4,1.3,1.2,1.2,1.2,1.1,1.2,1.4,1.5,1.4,1.3,1.4,1.4,1.4,1.3,1.3,1.3,1.2,1.4,1.6,1.4,1.1,1.3,1.3,1.3,1.3,1.2,1.3,1.4,1.4,1.4,1.3,1.4,1.5,1.5,1.5,1.5,1.5,1.5,1.5,1.6,1.5,1.2,1.3,1.3,1.4,1.5,1.1,1.3,1.4,1.6,1.3,1.3,1.4,1.7,1.3,1.3,1.6,1.3,1.3,1.4,1.7,1.6,1.3,1.2,1.3,1.3,1.3,1.4,1.2,1.2,1.2,1.3,1.5,1.5,1.5,1.5,1.5,1.5,1.6,1.6,1.5,1.3,1.4,1.5,1.7,1.4,1.4,1.4,1.5,1.4,1.4,1.4,1.2,1.2,1.4,1.4,1.4,1.4,1.5,1.5,1.6,1.3,1.3,1.4,1.5,1.5,1.4,1.6,1.6,1.6,1.4,0.7,0.4]